A home is usually the biggest asset for an individual to own.
As a home owner, you are "asset-rich" through housing equity. Do you know that you can turn your residential property into a fixed monthly income stream throughout your retirement years?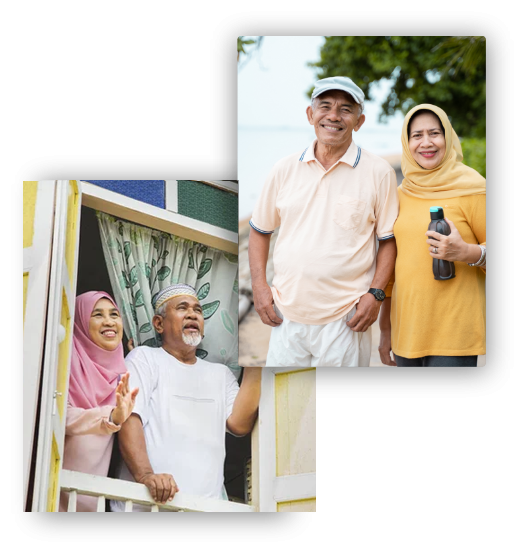 What is Skim Saraan Bercagar Islamik (SSB-i)?
Skim Saraan Bercagar Islamik (SSB-i) is an Islamic Reverse Mortgage Financing Facility (Financing) based on the Shariah concept of Commodity Murabahah (via Tawarruq arrangement). The SSB-i Financing provides fixed monthly payouts to senior citizens/ retirees who are 55 years old and above and own a house until they reach 120 years old.
How does it work?
Under SSB-i Financing, eligible senior citizens/retirees who owned a house (houseowner) will enter into a Commodity Murabahah (via Tawarruq arrangement) transaction with Cagamas Berhad (Cagamas), the facility provider. The houseowner will pledge the house as security in return for fixed monthly payouts until demise of the houseowner or when the houseowner turns 120 years old, whichever is earlier. The senior citizen/retiree will remain as the houseowner and continue to reside in the house and age in place.

Houseowner is not required to make any payment to Cagamas during the tenure of SSB-i Financing. Settlement will only due and payable upon demise of the last houseowner, in the case of joint application, whichever is later. If no settlement by the heirs/estate, the house will be sold by Cagamas to settle the amount due. Any excess after settlement will be paid to the estate, while shortfall will be borne by Cagamas.
Objective of SSB-i
SSB-i is designed to achieve the following:

To enable eligible houseowner peace of mind in surviving the golden years through consistent cash flow as monthly subsistence.

Reduce dependency on their next of kin as eligible houseowner can leverage on their own property without having to burden other parties.

Provide means for the elderly houseowner to pledge their house for extra cash without sacrificing homeownership by continue staying and aging in place

To help the elderly houseowner fund their retirement in a Shariah -complaint way
Eligibility Criteria
To qualify for the SSB-i facility, the person must be at least 55 years of age and own a house and meet the other eligibilities as shown in the table below:

Eligible Criteria for Customer
Malaysian citizen
Age 55 years old and above
Applicable for single or joint application (up to two names)
For joint application, not only confined to spouse but include parent, sibling or child, subject to age limit

Eligible Criteria for Property
Residential property in Malaysia held in Customer's name or joint ownership for joint application
For joint application, joint names in the property are required
Property must be owner occupied and be the primary place of residence
Freehold or leasehold with remaining lease tenure not less than 90 years
Free from encumbrances such as mortgage and other financial liabilities
Not subject to any Hibah (gift) including Hibah Amanah
Key Product Features of SSB-i

Long Financing Tenure
Fixed monthly payouts up to the age limit of 120 years old.

No payment during lifetime
Settlement only due when Customer(s) passes away.

Residing in own home
Customer(s) continue to stay in their property throughout their lifetime.

Non-recourse
Heirs or estate will not be responsible for the outstanding and any shortfall to settle the SSB-i Financing if the proceeds of sale of the property is less than the SSB-i outstanding amount.
Monthly Payouts and Maximum Lumpsum (Payout Amount)
The payout amount that Customer receive will largely depend on the Customer's age, property value, location and type of residential dwelling.
Generally, the older the Customer, the higher the payout amount will be. For joint application, the age of the youngest Customer will be used to determine the payout amount. Also, the higher the property value, the higher the payout amount will be.
The Reverse Mortgage Calculator may be used to provide an indicative payout amount. The information generated by the calculator is for reference and illustration purposes only.
Ceiling Profit Rate is the maximum profit rate that to be charged to the customer throughout the tenure
Effective Profit Rates is the actual profit rate to be charged to the customer which varied on monthly basis
Payable to the facility provider for the arrangement and services as follows:

represent the customer in negotiations and dealings with third parties;
provide advance to the customer for the Initial Expenses, if any;
disbursement of cash proceeds via monthly payouts on monthly basis; 
no recourse to the estate for any shortfall of the SSB-i outstanding amount 

Currently, the fee is based on 1.75% from the property's current market value
The fee can be added into the SSB-i Financing 
Payable to the third party for the initial cost to be incurred such as property valuation, legal fee, stamp duty, and/or fire and home takaful/fire insurance coverage of the  property including any counselling, administrative, brokerage fee to third party, if any. 
Such  initial cost can be financed in the SSB-i Financing
A one-time lumpsum together with a monthly payout is available upfront and the maximum amount would be assessed upon application.
The usage of the lumpsum payout is limited to the followings:
(1) payment for medical expenses;
(2) settlement any outstanding mortgage on the property to be charged under the SSB-i Financing ; and 
(3) refurbishment and maintenance expenses to upkeep the property
Only one time withdrawal is allowed at inception
Benefits of SSB-i
Shariah-compliant principles :
There is no usury-based (riba) loan element
No element of uncertainty in the contract :
Fixed financing period
Fixed monthly payout
Fixed Ceiling Profit Rate
Profit is charged at the Effective Profit Rates based on the actual disbursement/current principal :
Profit calculation is not compounded
Monthly rebates and early settlement are given to the Customer