About Skim Saraan Bercagar (SSB)
Senior home owners can now generate cash during retirement by taking out a reverse mortgage.
What is Skim Saraan Bercagar (SSB)?
Skim Saraan Bercagar or Reverse Mortgage ("RM") is a type of loan that is targeted for the elderly or retirees who own a home, and allows them to convert their one big asset — their residential property — into a fixed monthly income stream throughout their lifetime, without sacrificing  ownership whilst continuing to stay in their home.
To enable retired home owners to gain access to a lifetime of supplemental income stream for daily subsistence.
Home owners can now draw on their home equity to supplement their retirement income, thus reducing dependency on their next-of-kin.

Lifetime tenure
Fixed monthly payouts throughout the entire life of the borrower or joint borrower.

No repayment during lifetime
Repayment only due when borrower or joint borrower passes away, whichever later.

Residing in own home
Borrower and joint borrower can continue to stay in their property throughout their life.

Non-recourse
Borrower's estate will not be responsible for any shortfall to settle the Skim Saraan Bercagar Loan if the sale proceeds of the property is less than the outstanding loan amount.
How does it work?
To qualify for a Skim Saraan Bercagar Loan, the person must be at least 55 years of age and own a home.

Eligibility Criteria for Borrower
Malaysian aged 55 years and above, applicable for single and joint RM Loan.
Owner or joint -owners of a residential property.
*** For joint RM Loan, not only confined to the partner but includes parent, sibling or child, subject to age limit.

Eligibility Criteria for Property
Residential property in Malaysia in Borrower's name (joint ownership for joint RM Loan)
Borrower occupied and the primary place of residence
Unencumbered and mortgage-free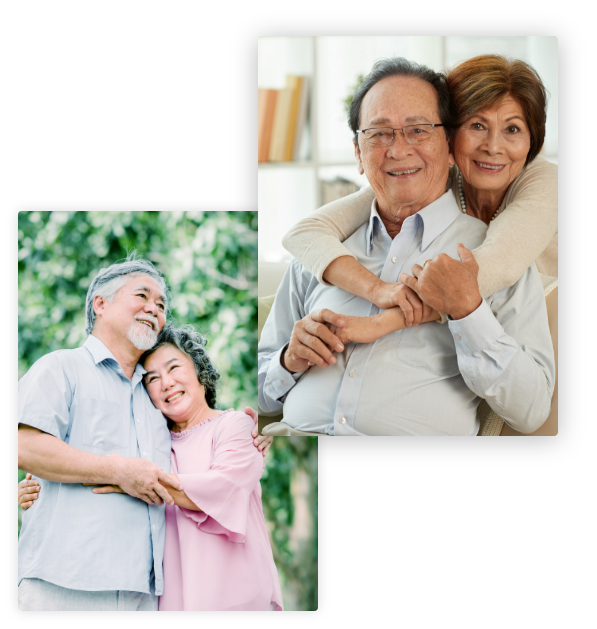 Get peace of mind with Skim Saraan Bercagar (SSB) Reverse Mortgage at a fixed rate financing (TBA)
The amount of payout that a Borrower receives will largely depend on the Borrower's age and property value, location and type.
Use our reverse mortgage calculator to estimate the monthly payout amount. A one-time lump sum payout together with monthly cash disbursements is also available. Learn more about the lump sum and costs here. 
How To Apply
We make the application process for Skim Saraan Bercagar (SSB) as simple as possible. Follow these steps below and you're on your way to a Skim Saraan Bercagar Loan!

Take a pre-assessment test to determine your eligibility

Make an appointment with AKPK's Financial Advisor

Complete the reverse mortgage financial advisory module with AKPK

Submit your Skim Saraan Bercagar application to Cagamas
Frequently Asked Questions
Have a question about Skim Saraan Bercagar (SSB) Reverse Mortgage? Find the answers about Skim Saraan Bercagar Loan, eligibility, costs and more, here in our FAQs
In this situation, the standard loan termination process will take place. Below are the options available to the next-of-kin.
Settle the outstanding Skim Saraan Bercagar Loan
The outstanding amount  will depend on the loan tenure. After settling the outstanding amount, the property will be passed back to the next-of-kin.
Not settle the Skim Saraan Bercagar Loan
If the next-of-kin chooses to not settle the loan, Cagamas will proceed to dispose the property and settle the outstanding loan. Any balance in the sale proceeds of the property, after subtracting the loan amount, will be passed on to the borrower's estate.
Borrower may surrender or terminate the agreement by settling or paying off the outstanding loan amount accumulated until that point of time.
No, the surviving joint-borrower would be able to reside in the property until death.